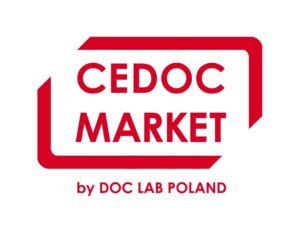 CALL FOR APPLICATIONS
Find partners for your film!  Expand your professional network!
Discover and join fresh documentary projects!
The CENTRAL EUROPEAN DOCUMENTARY COPRODUCTION MARKET is held every year in the beginning of June during the Krakow Film Festival in Poland. Building on its Central European location, CEDOC nurtures a cooperation between East and West, North and South with a special focus on Central European projects and talents. For many projects, CEDOC is the  first  platform to enter the international market.  We know how to recognize the potential even in projects at early stages of development and are not afraid to take risks. We discover talents. Join us and apply till the 16th of April.
WHEN: May 31 – June 2, 2023
WHERE: Krakow, Poland
FOR WHOM: Documentary film producers
DEADLINE: April 16 (for US producers), early bird: March 31
APPLICATION FORM: http://doclab.pl/en_GB/nabor/formularz/

Every year we select ca. 30 projects – creative documentary films in development and early stage of production with a minimum running time of 50 min. – coming from different countries and cultures. We don't require any financing in place nor confirmed sources of financing.
Taking part in CEDOC Market, situated in the historical city of Kraków, affords plenty of valuable opportunities to develop projects and build new professional alliances, especially between producers coming from different countries. Particularly for projects aiming at the international market, the beginning (or development stage) is a difficult and vulnerable moment. At CEDOC Market talented filmmakers present their projects to the international film community, raise awareness, receive feedback and discuss their projects with experts in an intimate, safe and creative atmosphere.
You can benefit from attending CEDOC MARKET by:
1.Taking part in one-on-one meetings between selected producers. Producers are encouraged to pitch their projects to each other in order to stimulate bilateral collaborations.                Structure: pre-booked one-on-one meetings. Selected projects will be invited to participate in roundtables focused on chosen subjects.
2. Taking part in one-on-one meetings with decision makers or experts. Find new partners for your project: producers, sales agents, broadcasters, funds, leading European pitching and training programs, consult your strategies with top class experts. Structure: pre-booked one-on-one meetings.
3. Watching live presentations of the best Polish documentary projects in development (curated by DOC LAB POLAND mentors and tutors), and booking one-on-one meetings with the project teams. Become a decision maker: give feedback and discuss your possible interest in the projects. Be the first to find new talents and titles from the region! .
Structure: public pitching and pre-booked one-on-one meetings.
For producers from USA, CEDOC  is the best place to find partners and financing for their own projects in Europe, specifically CEE and to get in touch with cultural institutions, regional funds, broadcasters and film institutes.
Last but not least, to relax from hard work and plenty of official meetings, CEDOC together with Krakow Film Festival invites you to view the most interesting documentaries selected for the festival. You may also enjoy great concerts, market and festival parties and events, such as "Night at Kazimierz" (party in the old Jewish district of Krakow), the "Vistula Cruise Party", or a visit to Wieliczka Salt Mine (over 300 meters deep, this mine dates back from the 13th century) or the Industry Party inviting you to dance till the morning.
HOW TO APPLY?
Go to http://doclab.pl/en_GB/nabor/formularz/ and fill the form. You have to provide:
logline (max. 250 characters with spaces)
synopsis (max. 1700 characters with spaces),
short bio and filmography of director (max. 500 characters with spaces),
short bio and filmography of the producer (max. 500 characters with spaces; and 700 characters with spaces for the producers without project),
brief info about the production company (max. 500 characters with spaces; and 1000 characters with spaces for the producers without project),
brief info about the status of the project (partners involved, financing plan, financing gap, etc.)
additional visual materials, stills (min. resolution 1800pix x 1200pix; tiff, jpeg, png), trailer/teaser (audiovisual materials will not be published – we only need them for more effective selection process),
If you wish to attend the market without a project, please contact us: market@doclab.pl
CONDITIONS
Applying for CEDOC Market is free.
The participation cost is 100 USD. For early bird applications (till 31st of March) the fee is 50 USD.
The final deadline for applications is April 16th (extended for US producers).
Selected projects will be notified by 25th of April.

The event is organized by DOC LAB POLAND & KFF Industry during 63rd Krakow Film Festival. We offer all participating producers a KFF Industry accreditation (entitling the holder to access all Industry events and Official Krakow Film Festival Screening programme) and possibility to attend all the networking events.
Participants organize and cover the expenses of their travel and accommodation.
For any questions please contact us at market@doclab.pl